What is the Visian ICL™ and would it be a good option for me?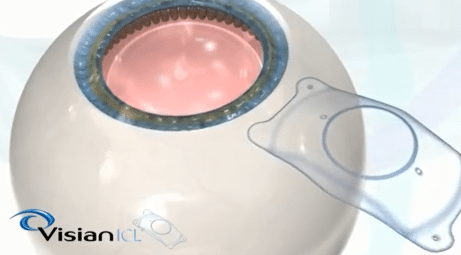 Besides laser vision correction (e.g. LASIK or PRK), another option to correct a person's glasses prescription is the Visian impantable collamer lens (ICL)™. This incredible device is analogous to an "implantable contact lens" and is inserted right in front of your natural lens. It is a highly-successful option for vision correction and has a good track record of safety. In addition, there are several benefits of the Visian ICL compared to traditional laser vision correction which include:
Can correct high degrees of myopia. Some patients have very high levels of myopia that cannot be neutralized safely with LASIK or PRK. The Visian ICL is a great option to correct these more extreme levels. It is currently FDA-approved to correct myopia in adults ranging from -3.0 D to -15.0 D with less than or equal to 2.5D of astigmatism.
Less potential problems with night vision. Occasionally (especially in individuals with larger pupils), people can experience some night vision problems (e.g. haloes) after traditional laser vision correction. These nighttime visual disturbances are not associated with the Visian ICL.
No corneal tissue is removed. One of the prime advantages of the Visian ICL is that no corneal tissue is removed in contrast to laser vision correction which remodels the cornea to achieve the desired refractive effect. Thus, individuals with thin or abnormally-shaped corneas could possibly be a candidate for the Visian ICL whereas they could not undergo LASIK.
Option for patients with moderate-to-severe dry eye. If dry eye cannot be controlled adequately, an individual may not be a good candidate for LASIK since it may occasionally exacerbate dry eye symptoms. In contrast, since the Visian ICL does not involve ablation of corneal tissue, there is minimal (if any) effect on an individual's tear film.
Reversible. Rarely, an individual may decide that he or she does not want the Visian ICL implanted any longer. In that special case, the Visian ICL can be removed relatively-easy. In contrast, the effects of laser vision correction are not reversible.
A great table that demonstrates the benefits of the Visian ICL can be found at the Visian ICL website. A great video demonstrating the Visian ICL procedure can be found on YouTube.
Give Maryland Vision Institute a call today at 301-791-0888, if you are interested in the Visian ICL to correct your glasses prescription!